An Eclectic Neighborhood
by ANGELA MEQUET CARLL,
New Orleans Homes & Lifestyles: January 2009
| | |
| --- | --- |
| | |
The elderly Creole gentleman dragged his desk and chair out of his apartment onto the banquette and began to answer his correspondence. Neighbors complained vehemently to the son that his father was sitting outdoors in his nightclothes.
"I cannot see anymore, and this is, after all, a cashmere robe," sniffed the old Creole with appropriate hauteur, "and besides, I am Bernard de Marigny."

Indeed, the Marquis Antoine Xavier Bernard Phillippe de Marigny de Mandeville (1785-1868) has been described as "the last Creole gentleman." By the mid-1800s, he had lived life large and managed to lose most of the vast fortune left to him when he was just a teenager. In order to pay his gambling debts, Marigny began to divide his vast plantation into the neighborhood we know today as Faubourg (the word means "suburb" in French) Marigny.

Faubourg Marigny begins at Elysian Fields Avenue at the site of Bernard's original plantation, the power station at the river, and extends downriver to Press Street, where it segues into Bywater. Esplanade Avenue, bordering the French Quarter, and St. Claude Avenue make up its other two boundaries.

Faubourg Marigny is composed of probably the most eclectic neighbors in the city. Frenchmen Street, lined with an over-abundance of restaurants, music clubs and coffee shops, is its main thoroughfare and Washington Square its playground.
An architecture class could take just one field trip here and marvel at examples of every architectural style built in the city during the 1800s –– plus the place just reeks with history.

In one block of Burgundy Street alone –– which Bernard originally named "Rue Craps" to pay homage to one of his great passions –– you can see a Greek Revival-galleried Creole cottage at 2020 Burgundy. One of the most authentically restored houses in the neighborhood, Sun Oak, as it's called, is the home and studio of architect Eugene Cizek and artist/tour guide Lloyd Sensat, who personifies Bernard's restless ghost during the neighborhood's annual walking tour.

Farther down this same street, at 2031, is an example of the quintessential New Orleans home style: the shotgun. Built in New Orleans between 1830 and 1940, shotguns are thought to have originated in Haiti. They were tailor-made for the long, thin lots of the city because the rooms are arranged in single file from front to back. The term is said to have originated from the fact that a gun can be fired the entire length of the house without hitting anything.

At 2001 Burgundy is the former Canal Commercial Trust & Savings Bank, one of several robbed by the infamous duo Bonnie Parker and Clyde Barrow. More recently, it was used in a chase scene in the K-Ville television series.

And on the corner of Burgundy and Touro sits another of the city's indigenous structures: an excellent example of a two-story corner store. The corner lot was used for commercial purposes because it attracted customers from all directions, and usually the Creole shopkeeper's family lived on the second floor. Built around 1850, this commercial structure boasts a cast-iron wrap around gallery and is eerily familiar because it was photographed over and over during the international television coverage of Hurricane Katrina.

Faubourg Marigny today is chic and sophisticated. Many of its grand homes have been meticulously restored. Residents dress stylishly for Sunday brunch at one of the many cafes and then glide over to the Nickel-A-Dance soiree on Frenchmen Street. But, like many older sections of the city, it has lived through its own share of hard times.

After World War II, veterans took advantage of the Veterans Housing Act and bought homes in the suburbs while inner city neighborhoods such as the Marigny became run-down. Yet by the early 1970s, young professionals saw the charm of street after street of 19th-century dwellings, and the Faubourg Marigny Improvement Association was created as they moved in and began to renovate.
Today, the Marigny is flourishing again as a neighborhood where whites and blacks, gays and straights, young and old live in harmony as they enjoy their little piece of the past.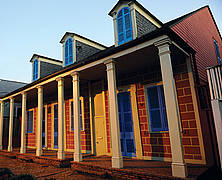 Photo of Sun Oak
By Cheryl Gerber

Back